RHO Index Key Levels
The RHO Index Key Levels is an intraday reversal trading signal and strategy pioneered by Phillip Capital top trader Mr Robin Ho. It is designed to track 6 major indices:
Hang Seng Index
Singapore MSCI Index Futures
FTSE China A50 Index Futures
Dow Jones Industrial Average
NASDAQ 100 Index
S&P 500 Index
The basic ideas behind the RHO Index Key Levels strategy is simple – Instead of scalping a few points on each trade, the potential day high and low for these indices were sent to subscribers at the start of each trading session.
When the price makes a reversal these levels, subscribers are then alerted to take an intraday trade with less risk and higher potential returns!
Here is How It Works
Every day within the first few minutes of the trading session, the predicted day high and lows for each of the six indices will be sent to subscribers. When the price hits one of these levels and makes a reversal, there will be an alert for a recommended buy (near the predicted day low) or sell (near the predicted day high).
After the position is open, the robot will also monitor the price and advice when to take profit. All positions are closed before the end of the day.
What is unique about this system is that it uses a man-machine synergistic strategy – combining the discretionary analysis of a top trader and remisier from Phillip Capital Mr Robin Ho, with the data crunching and processing capabilities of a robot.
This simple strategy is revolutionising the way people trade, and created a new way for retail investors to seek profit from the market on a intraday basis, under any market condition.
Performance
The real-time buy and sell recommendations were introduced into the RHO Index Key Levels alerts in the mid of January 2019. Over the past 1 year, the performance was fantastic, allowing traders to take action with each alert.
Here is the *actual performance of the signal over the last 1 year.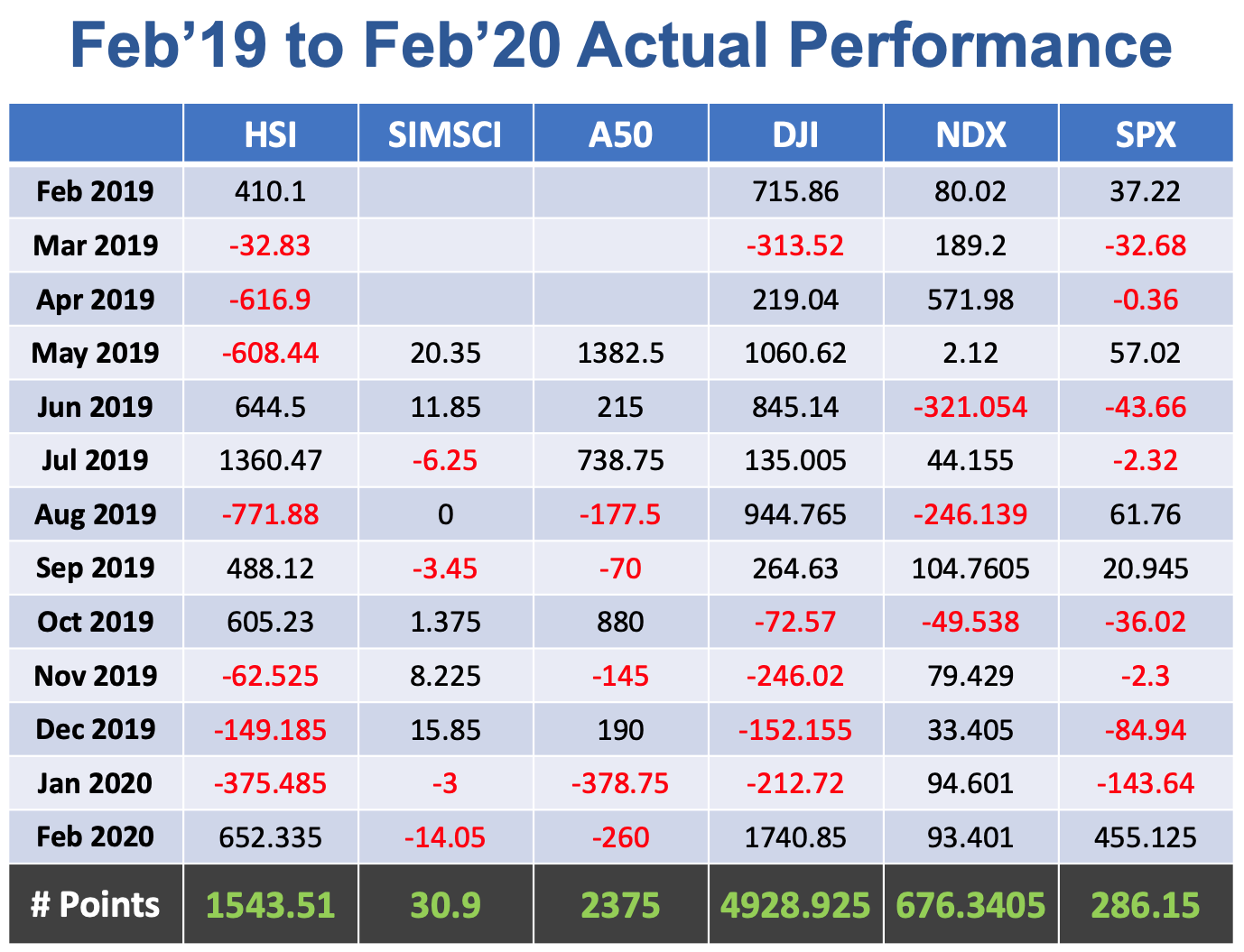 * Assumptions and Notes for Performance Report:
Performance shown are number of index points. Actual profit and loss (in dollar terms) depends on the specific derivative contract (e.g. CFD, Warrants, DLC) used to trade the indices, and the contract size, margin requirement and other fees charged by your broker.
The performance above does not take into account any commissions and spread, which may be charged by your broker, and will vary from broker to broker.
Figures are tallied based on timestamp of actual alerts received on Telegram, matched with exchange listed instruments pricing data from Thomson Reuters.
Figures are based on assumption that the trades are filled at the mid price (high + low / 2) of the 1 minute bar when the alert is received on Telegram.
The money management / position sizing strategy used is as follows:

Open New Position: Enter 4 contracts
Hit 1st Support / Resistance: Exit 2 contracts
Hit 2nd Support / Resistance: Exit 1 contracts
Hit 3rd Support / Resistance: Exit 1 contracts
Hit Stop Loss: Exit all open positions
Sign Up for Your Free Trial
Sign up for RHO Index Key Levels to get access to these daily key level predictions!
When you sign up today, you will get to enjoy a free one month trial of the system. During the sign up process, you will be required to fill in your credit card details for the subscription. However, there will be no charge at upon the start of the trial.
3 days before the end of the trial, a reminder will be sent to you via Telegram to alert you of the upcoming trial expiry and you can then decide whether to continue with your subscription.
Terms of Service / Important Notes
In order to receive the RHO Index Key Levels signal alerts, you will need to use a Telegram account. You can download the Telegram mobile app, and set up an account for free.
The RHO Index Key Levels predictions are a result of manual and discretionary market analysis, as such the predictions will be delivered on best effort basis. We strive to send the predictions every trading day in Singapore. There will be no predictions on Singapore public holidays.
The RHO Index Key Levels service is to be used for your own personal analysis only and should not be considered as financial advice. This service is not offer to invest in any financial product.
By subscribing to the RHO Index Key Levels service, you are acknowledging the risks involved in trading the financial markets and are also acknowledging that you, the subscriber, and not Trading Kungfu Pte Ltd, are solely responsible for any losses, financial or otherwise, as a result of using this service. Trading Kungfu Pte Ltd shall not be liable under any circumstances for any lost profits, lost opportunities, misstatements, or errors contained within the service. You also agree that Trading Kungfu Pte Ltd will not be held liable for data accuracy, failure of hardware, software and network connections, or any special or consequential damages that result from the use of, or the inability to use, any or all of the materials published within the service. The result of any system failure may be that the you may not receive the signal alerts in good timing, or at all. We cannot guarantee that you will receive every communication from us. It is your responsibility to ensure that you have the information that you want. You agree to hold Trading Kungfu Pte Ltd harmless for any act resulting directly or indirectly from this service, its data, content, materials, associated pages and documents.
Trading Kungfu Pte Ltd shall be entitled to add, vary, rescind or amend any or all of these terms and conditions at any time at its discretion.